By Margot | March 12, 2017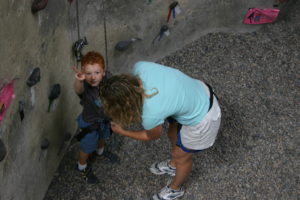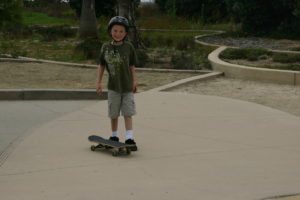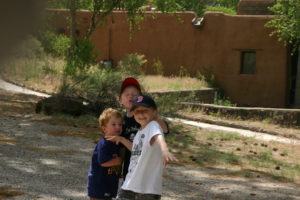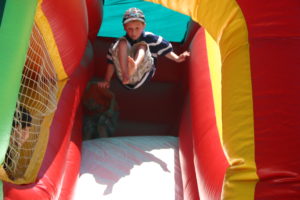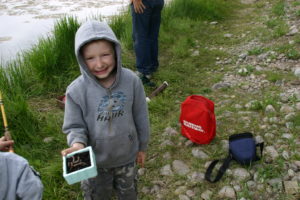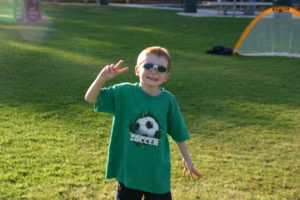 Seven years today.   Miss you Sammo!  We miss everything about you.   You would be so proud of your little brothers.
Sam was such a funny boy.  When I look back through the photos I see so much of his "Mr. Cool" personality but he pulled it off in such a kind and goofy way.  I especially love the photo where he is grossing out at the fishing worms.  I always had to put the worm on the hook for him.
Charlie had a friend over this week who was looking at the pictures on our walls.  He asked Charlie, "Was your little brother nice?"   Charlie answered, "I am the littlest of all of my brothers."   "Oh," said his friend, "Well was your older brother nice?"  "Yes," answered Charlie, "he was nice."  His friend then asked "Was he good at sports?"  "Yes,"   Charlie said, "he was good at sports." Though Charlie is now older than Sam ever was,  I don't think of it that way.  He will always be the oldest in my mind.  I guess that seems obvious but I didn't know I'd think of it that way until the boys passed him by in age.
We miss him every day.  It does get easier in general,  however, this day, in particular, does not.
Topics: Progress Reports | 2 Comments »
By Margot | March 12, 2016
Sam died six years ago today. We miss him so much.   I miss who he was, and increasingly now, who he would have become. Sam's friends are all in various stages of getting their driver's licenses and starting to think about college. What I wouldn't give to be sitting in the passenger seat while Sam drove his practice hours and I kidded him about fearing for my life.   Come to think of it, given Sam's love for speed and the fact that one of his Make a Wish choices (that he didn't ultimately choose) was to be a race car driver, I might not have been kidding.   I play the tortuous game sometimes that all parents who have lost a child play with themselves. Who would he be friends with now? What would he be interested in? What sports would he be playing? Would he come into the kitchen and tease me like his brothers do, "Really Mom? You're wearing that?"   Would he tackle Brady and scratch his belly?
I feel as if there is a cutting knife resting on the membrane of my heart.   After six years the blade has dulled a bit but the pressure is always there and if I tilt the wrong way the knife slants and the tip plunges in and I stagger around bleeding internally for a while.   Today of course if you look hard enough you might even see the handle of the knife sticking out of my chest it has titled so far in and Neil and I just have to get through the day.
In a TED Talk I watched recently there was a quote by Aristotle that says "Happiness is a state of activity."   I feel like I owe it Sam to try for that state of activity.   In his nine years, he certainly nailed it. It reminds me of Neil's advice for a lot of things "just get out and do an activity."   So I try not to stagger for too long. I try not to let the boys see me bleeding internally and I try to make sure that I'm enjoying all of their activities and milestones. I can't help wishing that Sam's milestones were included but there it is. I'm still working on being grateful for the ones we had with him.
We will go and walk the beach this morning and go to lunch together. Then Charlie has a baseball game that Neil is coaching and Andrew has a sleepover party that he really wants to go to.   If he had won his soccer game last week, Andrew would have been in the quarter finals of National Cup today and Neil and I had already talked about trying not to put Sam's anniversary on his shoulders too much -though I know both boys always want to do something special in remembrance of Sam.   If you see any of us staggering today, it's because we are remembering our sweet, funny, clever, goofball who gave us so much joy.
We miss you Sammo! We love you so much. Your brothers are doing you proud by "Getting in the Game."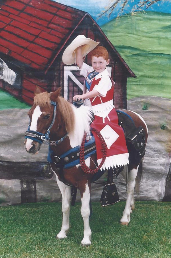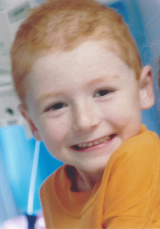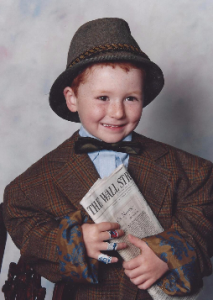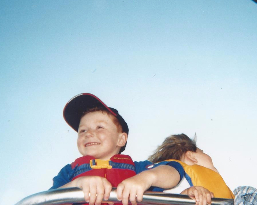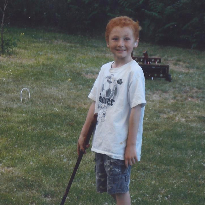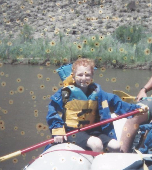 Topics: Progress Reports | 4 Comments »
By Margot | July 13, 2015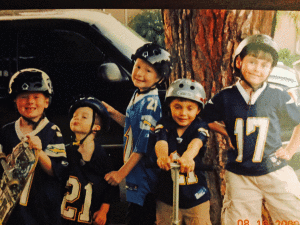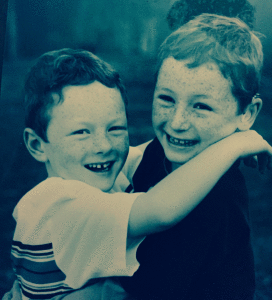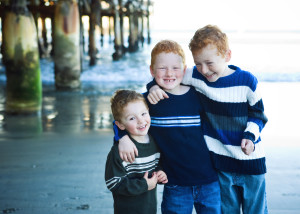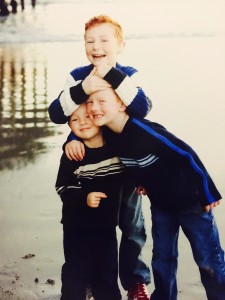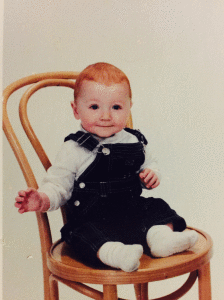 Happy 15th Birthday, Sam!  I can't imagine the mischief you would be getting into as a fifteen year-old boy.  We wish you were here to give your famous eye roll and laugh at your brothers.   We are going to Sammy's Pizza tonight and have a messy sundae in your honor, sweet boy.
Love, Mom, Dad, Andrew and Mr. Baby Dude
Topics: Progress Reports | No Comments »
By Margot | March 12, 2015
Sam died five years ago today.    I looked through all of his pictures and some videos last night and smiled at all he did.   There are pictures of him surfing,  playing tennis, playing basketball, playing soccer, playing football at the park, playing baseball,  golfing, sledding, river rafting, going to Disneyland,  in a Fireman's outfit,  dressed up as Wolverine,  hugging his brothers,  laughing,  sticking out his tongue, hugging Shamu,  in Australia with his cousins, at Legoland, in Michigan dancing with his Grandma,  fishing with his Grandpa in New Mexico, at the White House, at the top of the Empire State building, dancing on the Piano in FAO Schwartz in New York, in front of the Empire State building,  high fiving Joe,  goofing around with his dad, at a birthday party with his friends, driving a remote control car, skateboarding, horseback riding, riding his bike, rock climbing, getting let down the big ramp by Tony Hawk, smiling next to Shawn White, driving the bobcat with Uncle Tom, putting the star on top of the Christmas Tree, singing in the school Christmas Show, doing the jogathon at school, meeting LaDanian Tomlinson, being the ring bearer in Grandpa's weeding, running along the beach with a huge smile, seeing the Cheetahs run, petting a penguin, playing with trucks, playing hockey in the hospital halls, playing hide and go seek in the hospital garden, climbing in the caves in Bandalier National Park, jumping in the pool, building snowmen in Grandpa's backyard, kicking butt at his karate tournament, hugging his teachers at school, jumping on Uncle Matt's back, buried in the sand with Andrew in Hawaii, hiking the volcano in Hawaii, laughing on the Brunettes couch, playing the kickball game at school, in New Orleans with his cousins, riding with the Bonebrake boys in a classic convertible, in Colorado on a train, arms around Tanner, dressed up as Woody, in Mexican hat for Cinco De Mayo, in a Chef's hat, holding a sparkler on the 4th of July,shotting hoops with Uncle Paul, and riding a BMX bike at Andrew's birthday party a month before he died.  And we have hundreds and hundreds of pictures of him living his life large.   As excruciating as it is for me to think of the moments he has missed in this past five years and to think of all that he will miss, as hard as it is to hear of his friend's birthdays and graduations, I remind myself that while he was here, he lived with a smile and sense of adventure and he did not waste much time feeling sorry for himself.   I look at his brothers who are such amazing human beings and are who have gotten Neil and me through this past five years, and I remind myself, as I remind you today, to try and live life large.  At least for today, don't worry about the minutia and go out and do something fun.   Go out and GET IN THE GAME – because it goes fast.  We love you Sam Hutchison and we miss you so much.   We will be up at the Wild Animal Park with the boys to see the cheetahs and remember our amazing boy.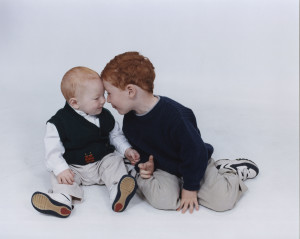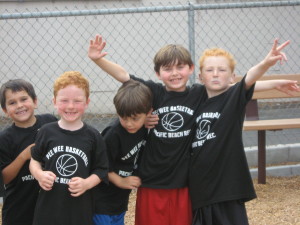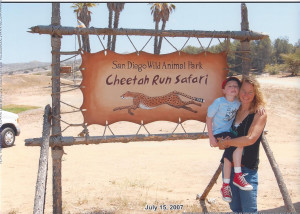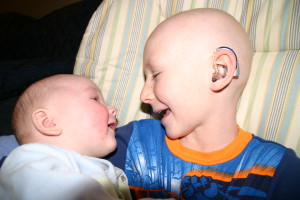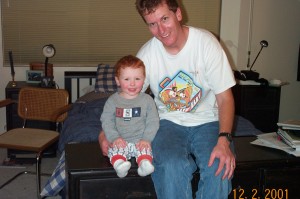 Topics: Progress Reports | No Comments »
By Margot | July 14, 2014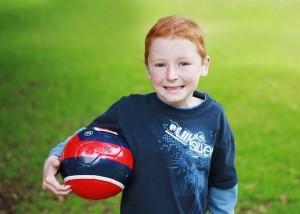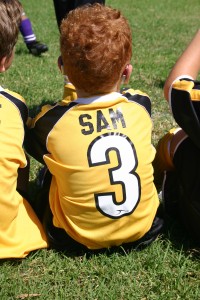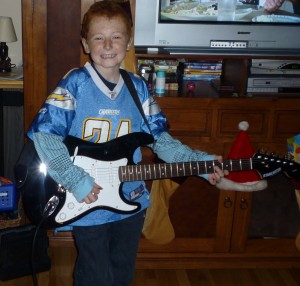 It was Sam's fourteenth birthday yesterday. We drove home from New Mexico and saw the most beautiful morning sky on our way. We walked up to Kate Sessions Park with our new dog Brady (named after Tom Brady of course) after we got into San Diego last evening and then went out to dinner and had Salmon (he used to call it pink fish) and a chocolate cheesecake in his honor. It was the World Cup final and Sam would have gotten a big kick out of that being on his birthday. I'm sure he would have picked the winner way back in week one. He seemed to have a knack for that.
As we get further away from 9 years old and Sam as a little boy, I try not to drive myself crazy wondering what Sam would be like now. I met a girl going into 9th grade on our vacation and was talking with her about high school and I wondered if Sam were there would he be shy? Would he be chatting her up? Would he be nervous about high school or excited? What would he be interested in doing? Of course these are questions I will never know the answers to and so I counsel myself to try and focus on who he was and how much he gave to the world while he was here and not so much on who he would have been. I'm not always successful of course. Happy Birthday to our amazing little boy. Your brothers and your dad and I miss you so.
Margot
Topics: Progress Reports | 7 Comments »
By Margot | March 12, 2014
It has been four years today.  Four years without our funny, handsome, speed-loving, "live life to the fullest" little boy.  We miss him so much.  They say that there is a point where we will remember him with smiles and not pain but we certainly haven't gotten to that point yet – though we do remember him with smiles and laughter, there is definitely still pain.  But as much as I want to "It's Not Fair!" my life away,  I know that Sam did not and we owe it to him not to.  It also struck me how little Andrew and Charlie look in these pictures compared to the boys they are today.  Time slips away so quickly and I'm so proud of Sam and how he made the most of every moment – always looking for fun and laughter and always ready to make a joke.
We are in a new house now and will plant a new tree for Sam in a prominent place in our new back yard.  We will go out for french toast this morning and take a bike ride this afternoon.  We love you Sammo!  So so much.
Margot
Topics: Progress Reports | 8 Comments »
By Margot | July 13, 2013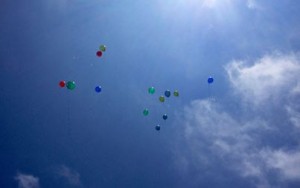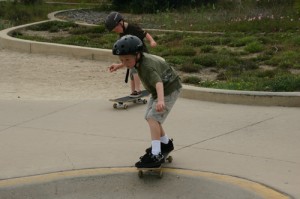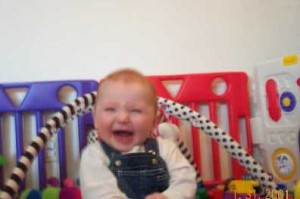 Sam would have been thirteen today.  He would have gotten such a kick out of being 13 on the 13th of 2013.  I can't help but imagine him on his skateboard a lot.  I was at the Monacos house a few weeks ago and his friends Joe and Blake asked if they could ride their skateboards to Mr. Frosty's and it took my breath away how old they are getting.
We love you Sam and miss you so.  We celebrated at the park this morning with a big group of friends.  The kids played football and kickball and we had an awesome water balloon fight and let 13 balloons go in your honor.
Topics: Progress Reports | 5 Comments »
By Margot | March 12, 2013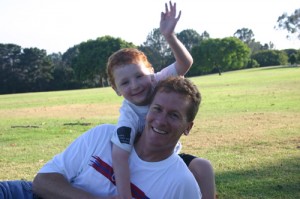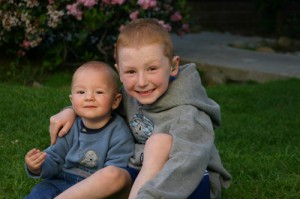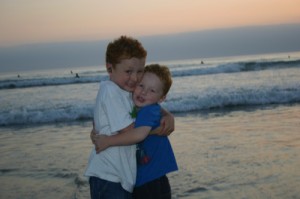 Three Years. I can't believe he has been gone three whole years.  We miss everything about him. I miss him for his brothers, I miss him for his dad, I miss him for me, and for all of us who knew and loved him.
Once when he and I were having a random conversation about getting hit by a bus and the fact that if it happened you'd want to know that you'd lived every day and that you'd had a good life, Sam said to me without hesitation,  "I've had a good life, Mom." He said it happily and cheerfully and as if the matter were settled.  As if, were a bus to come along that very afternoon, he would be fine because he'd lived a good life.  I hold on to those five words from my sweet boy.  And I try my darndest every day to hold on to, and live up to, the spirit in which he said them.
Remember to laugh or tell a good joke in honor of Sam – he loved to laugh.
Margot
Topics: Progress Reports | 17 Comments »
By Margot | December 17, 2012
The above are our Christmas pictures – a combination of two fantastic photographers, Meredith and Deb.  I also included one of Andrew's soccer team after they won their tournament this weekend and one of Sam in his Christmas pajamas and Charlie at the podium before his piano recital telling a bit about himself. We leave on Friday for New Mexico and after Christmas will meet Neil's family in Colorado.  The holidays seemed to have come up so quickly this year.  We got our tree up last week and the boys had a great time decorating.  They are so cute and always make sure to put Sam ornaments in very prominent positions on the tree. Charlie can play "Jolly Old St. Nicholas" on the piano.  He sings along to it and it's about the best thing ever.  Andy is playing Jingle Bells on the guitar and has got "Lucky Man" down pretty well.  Both boys finished up soccer.  Charlie with an All Star Tournament and Andy with a tournament this weekend in Irvine.  We drove up Saturday morning for two soccer games, drove back to San Diego so Andrew could play in his basketball tournament and then woke up Sunday morning at 5am to drive back up to Irvine for an 8am semi-final game and finals games.  Andrew did six games in a day and a half and we were all wiped out (him most of all)  last night after the end of the season flag football party topped off our day.  Neil and I looked at each other tiredly at 5am on Sunday morning and agreed that we are crazy people ;-).  Charlie was excited because we would actually get to see the "crack of dawn" as we were driving up for the early game.  I think we are all looking forward to a couple of weeks off. Andrew did really well in his tournament this weekend. He had a hat trick in two games.  He's playing some forward now – he'd been playing midfield. I always think of him as my little boy but he is getting big.  At one point in the tournament Neil and I had run to get something for him during the game and we were walking back to our chairs behind the goal and Andrew had a break away.  He was coming at full speed and it was like a train coming at the one defender and the goalie.  It was definitely impressive sight from that angle – probably a scary sight for the goalie :-). Charlie had an end of the season "championship game" for the two teams that were supposed to go to a tournament that got rained out.  It ended in penalty kicks with Charlie in the goal.  He was "ice cold" as one dad said and they ended up winning by one goal he made some great saves. It was very exciting.  Their All Star team didn't do so well in their tournament because our little league sent three teams and we probably had enough All Stars for one ;-).  Charlie played well though and for the first time Andrew was dragged to one of Charlie's tournaments instead of the other way around.  He kept saying "You so owe me for this, Mom."  I had fun teasing him about that one, it was a comment that lent itself to sarcasm so much it was hard to resist.  There were some serious politics going on among parents and coaches in that  tournament for six and seven year-olds.  As we roll into basketball season, I'm thinking I should start a crazy sports mother blog but if the boys burn out by twelve I'd be out of material.:-) I finished my creative writing class and I really loved it.  There were so many interesting people in the class and some really good writing.  I remember when I was really young and read Sophie's Choice and I thought to myself that I hadn't been through enough pain in life to be a "real writer." Funny how life works out, isn't it?  We are missing Sam as always this Christmas.  I think of his little baby voice saying, "Tristen Lights, Mama!" and him in his Santa hat as he put up the ornaments when he was older. I hope that everyone has a safe, family filled holiday.  Thinking of those in Connecticut who are having funerals instead of Christmas. Margot
Topics: Progress Reports | 4 Comments »
By Margot | November 1, 2012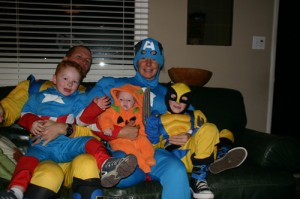 Sam loved  Halloween.
We've had a lot of Sam moments this past month.   We miss you, Sammo.  You would have loved running around with your brothers this Halloween.  The boys got quite a haul of candy last night and ran around Darcy's neighborhood with a big group of kids.    Andrew and Charlie were Brazillian soccer players.  Andrew was Neymar and Charlie was Hulk.  Unless you are really into soccer, you might not know who they are but Neymar has this awesome mohawk so we got Andrew a mohawk wig and he rocked it.  We sprayed Charlie's hair black so he would look like Hulk.   The boys are getting so big.  It's crazy to look at Andrew as Captain America in 2006 and look at our big fourth grader now.  He even carved his own pumpkin this year.  His was on the far left (Charlie picked the complicated "welcome"  stencil that took forever). Andrew's playing flag football and soccer now and loving both.   He made a last minute touchdown run last week to win the football game.  I was out of town on business but Neil said it was awesome.   They held the school elections and Andrew won Vice President yesterday.   He loves student council.  If I can get a copy of the speeches, I'll try to post his here.   He worked hard on it.   Charlie boy is doing well.  He split his chin open a couple of days ago playing four square and he and I spent the day in the ER waiting for them to glue it back together.  He regaled the nurses and doctors with a total reenactment of how it happened, "Well I was playing foursquare and Chance threw up a cherry bomb and I went for it but tripped and hit my chin on the blacktop."  Then he had to explain what a cherry bomb was to all of the doctors.  It was funny.    He's still "Mr. Sacrifice your body for the ball" in whatever sport he is playing.       He has a piano recital coming up and he's been working hard on his pieces.  He's also playing soccer and baseball and is about to start all stars in soccer.  Neil is going to coach his all start team.  He did great this season and played center-mid.     His baseball team had a game last Sunday and I was sitting behind the bench.   The boys were all talking about their brothers and one of the seven year-olds was telling the boys that his brother was born with autism and he was explaining it.  Charlie said, "My oldest brother died."   The whole bench asked him how he died and Charlie calmly said, "He had neuroblastoma, it's a type of cancer."   After asking how old he was and Charlie having answered nine, a little six year old boy gently put his hand on Charlie's arm and asked nicely and knowingly, "Was he a smoker?"   I laughed out loud after being near tears. You probably had to be there but it was a very funny moment after a not very funny conversation.   Charlie by the way answered "No, no he wasn't a smoker."
Neil and I are doing all right.  We were able to see Dr. Sholler this fall when we ran Max's Run (a phenomenal event that was at Qualcomm this year big kudos to the Mikulaks).  It was great to see Dr. Sholler and talk with her.   Our weekends are pretty much all sports, all the time.  Neil is coaching Charlie's regular team and has brought the boys really far along.  He's done such a good job.   I've been taking a creative writing class at UCSD with my friend Lisa.  It's fun but a lot of homework.  Not sure I have much of a workable story yet:-)   We are going to New Mexico for Christmas again this year and then will drive up to ski in Telluride with Neil's family.  The boys are very excited about the trip.
I think that's about all I have to report.  Still missing Sam so much and really enjoying Andrew and Charlie and so proud of both of them.  I keep thinking the holidays will suck less each year and they do.  And they don't.  Story of our lives.
Thinking of all our friends on the East Coast.
Margot
Topics: Progress Reports | 5 Comments »
« Previous Entries