« Ups and Downs | Home | Holidays »
By Margot | November 1, 2012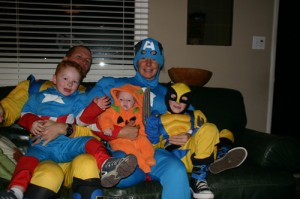 Sam loved  Halloween.
We've had a lot of Sam moments this past month.   We miss you, Sammo.  You would have loved running around with your brothers this Halloween.  The boys got quite a haul of candy last night and ran around Darcy's neighborhood with a big group of kids.    Andrew and Charlie were Brazillian soccer players.  Andrew was Neymar and Charlie was Hulk.  Unless you are really into soccer, you might not know who they are but Neymar has this awesome mohawk so we got Andrew a mohawk wig and he rocked it.  We sprayed Charlie's hair black so he would look like Hulk.   The boys are getting so big.  It's crazy to look at Andrew as Captain America in 2006 and look at our big fourth grader now.  He even carved his own pumpkin this year.  His was on the far left (Charlie picked the complicated "welcome"  stencil that took forever). Andrew's playing flag football and soccer now and loving both.   He made a last minute touchdown run last week to win the football game.  I was out of town on business but Neil said it was awesome.   They held the school elections and Andrew won Vice President yesterday.   He loves student council.  If I can get a copy of the speeches, I'll try to post his here.   He worked hard on it.   Charlie boy is doing well.  He split his chin open a couple of days ago playing four square and he and I spent the day in the ER waiting for them to glue it back together.  He regaled the nurses and doctors with a total reenactment of how it happened, "Well I was playing foursquare and Chance threw up a cherry bomb and I went for it but tripped and hit my chin on the blacktop."  Then he had to explain what a cherry bomb was to all of the doctors.  It was funny.    He's still "Mr. Sacrifice your body for the ball" in whatever sport he is playing.       He has a piano recital coming up and he's been working hard on his pieces.  He's also playing soccer and baseball and is about to start all stars in soccer.  Neil is going to coach his all start team.  He did great this season and played center-mid.     His baseball team had a game last Sunday and I was sitting behind the bench.   The boys were all talking about their brothers and one of the seven year-olds was telling the boys that his brother was born with autism and he was explaining it.  Charlie said, "My oldest brother died."   The whole bench asked him how he died and Charlie calmly said, "He had neuroblastoma, it's a type of cancer."   After asking how old he was and Charlie having answered nine, a little six year old boy gently put his hand on Charlie's arm and asked nicely and knowingly, "Was he a smoker?"   I laughed out loud after being near tears. You probably had to be there but it was a very funny moment after a not very funny conversation.   Charlie by the way answered "No, no he wasn't a smoker."
Neil and I are doing all right.  We were able to see Dr. Sholler this fall when we ran Max's Run (a phenomenal event that was at Qualcomm this year big kudos to the Mikulaks).  It was great to see Dr. Sholler and talk with her.   Our weekends are pretty much all sports, all the time.  Neil is coaching Charlie's regular team and has brought the boys really far along.  He's done such a good job.   I've been taking a creative writing class at UCSD with my friend Lisa.  It's fun but a lot of homework.  Not sure I have much of a workable story yet:-)   We are going to New Mexico for Christmas again this year and then will drive up to ski in Telluride with Neil's family.  The boys are very excited about the trip.
I think that's about all I have to report.  Still missing Sam so much and really enjoying Andrew and Charlie and so proud of both of them.  I keep thinking the holidays will suck less each year and they do.  And they don't.  Story of our lives.
Thinking of all our friends on the East Coast.
Margot
Topics: Progress Reports | 5 Comments »
5 Responses to "Halloween"
Comments