By Margot | November 1, 2012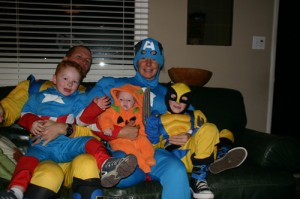 Sam loved  Halloween.
We've had a lot of Sam moments this past month.   We miss you, Sammo.  You would have loved running around with your brothers this Halloween.  The boys got quite a haul of candy last night and ran around Darcy's neighborhood with a big group of kids.    Andrew and Charlie were Brazillian soccer players.  Andrew was Neymar and Charlie was Hulk.  Unless you are really into soccer, you might not know who they are but Neymar has this awesome mohawk so we got Andrew a mohawk wig and he rocked it.  We sprayed Charlie's hair black so he would look like Hulk.   The boys are getting so big.  It's crazy to look at Andrew as Captain America in 2006 and look at our big fourth grader now.  He even carved his own pumpkin this year.  His was on the far left (Charlie picked the complicated "welcome"  stencil that took forever). Andrew's playing flag football and soccer now and loving both.   He made a last minute touchdown run last week to win the football game.  I was out of town on business but Neil said it was awesome.   They held the school elections and Andrew won Vice President yesterday.   He loves student council.  If I can get a copy of the speeches, I'll try to post his here.   He worked hard on it.   Charlie boy is doing well.  He split his chin open a couple of days ago playing four square and he and I spent the day in the ER waiting for them to glue it back together.  He regaled the nurses and doctors with a total reenactment of how it happened, "Well I was playing foursquare and Chance threw up a cherry bomb and I went for it but tripped and hit my chin on the blacktop."  Then he had to explain what a cherry bomb was to all of the doctors.  It was funny.    He's still "Mr. Sacrifice your body for the ball" in whatever sport he is playing.       He has a piano recital coming up and he's been working hard on his pieces.  He's also playing soccer and baseball and is about to start all stars in soccer.  Neil is going to coach his all start team.  He did great this season and played center-mid.     His baseball team had a game last Sunday and I was sitting behind the bench.   The boys were all talking about their brothers and one of the seven year-olds was telling the boys that his brother was born with autism and he was explaining it.  Charlie said, "My oldest brother died."   The whole bench asked him how he died and Charlie calmly said, "He had neuroblastoma, it's a type of cancer."   After asking how old he was and Charlie having answered nine, a little six year old boy gently put his hand on Charlie's arm and asked nicely and knowingly, "Was he a smoker?"   I laughed out loud after being near tears. You probably had to be there but it was a very funny moment after a not very funny conversation.   Charlie by the way answered "No, no he wasn't a smoker."
Neil and I are doing all right.  We were able to see Dr. Sholler this fall when we ran Max's Run (a phenomenal event that was at Qualcomm this year big kudos to the Mikulaks).  It was great to see Dr. Sholler and talk with her.   Our weekends are pretty much all sports, all the time.  Neil is coaching Charlie's regular team and has brought the boys really far along.  He's done such a good job.   I've been taking a creative writing class at UCSD with my friend Lisa.  It's fun but a lot of homework.  Not sure I have much of a workable story yet:-)   We are going to New Mexico for Christmas again this year and then will drive up to ski in Telluride with Neil's family.  The boys are very excited about the trip.
I think that's about all I have to report.  Still missing Sam so much and really enjoying Andrew and Charlie and so proud of both of them.  I keep thinking the holidays will suck less each year and they do.  And they don't.  Story of our lives.
Thinking of all our friends on the East Coast.
Margot
Topics: Progress Reports | 5 Comments »
By Margot | September 17, 2012
Quick report since I have been so lax…
Charlie boy turned six in August and we had a rock climbing party.  The boys finished up summer with water sports camp which they loved and chess camp which was filled with chess champions and intimidated them. We drove up the coast to San Francisco (nobody got carsick but me ;-)) and saw the Hearst Castle, the Monterey Bay Acquarium, The (cold) Golden Gate bridge went to a Giants game and (this is what the boys are still talking about- ha ha) had the best Sundae and milkshake ever in Ghiardelli Square.  The boys started school.  The world lost wonderful, amazing Jack Bartosz and NB broke our hearts again.  We were able to spend some time with Hans and Lara Weberling when they came down to San Diego for a consult.  We got to have chips and salsa and talk legos with Hans who is just absolutely an awesome kid.  The boys were able to come to the hospital to hang out with him after school.  We are hoping that his new chemo is working and getting him on to another treatment.  We love Lara and Hans.  Andrew's feet have officially grown as big as mine.  In late September, he will be older than Sam ever was.  We had a school Day at the Bay and the sports center gave the school free paddle boards and kayaks and paddle boats.  I was going in circles on the paddle board and Andrew waded out and hopped on and paddled me around because he is an expert after sports camp.  Charlie has started pitching machine baseball and loves it.  He's gotten a hit every time he's been up.  Neil is coaching Charlie's fall soccer team and they've lost one and won one and Charlie still wants to be a goalie even though we need him at forward.  He still wants to hang out with all of Andrew's friends.  In the background to summer Andrew had what seemed like a million soccer tournaments and his regular season has started two Saturday's ago.  The team looks good this year.  Saturday they played in 100 degree heat.  I am room parent coordinator for their school this year.  We finally cleaned out all of Sam's stuff from the boys room and redecorated it a bit.  I am speaking at a writer's conference in Vegas in October.  I am taking a creative writing class at UCSD on Monday nights with my friend Lisa.  I am trying instead of keeping busy for busy's sake and having my hair on fire at all times to actually go in a direction. Forward.  So hard because we don't want to leave Sam behind (though logically we know we never can).  Neil is busy with work and was able to do a golf trip with some friends two weekends ago.  Neil and I will run Max's Run together this year on September 29th. Uncle Matt and Roscoe moved up to San Francisco for a killer new job at CBS. Uncle Paul is coming back to visit from Australia in two weeks.  We are spending Christmas in New Mexico.  The boys have the same teachers, are in the same grades and in the same classrooms as Sam and Andrew were the year that Sam died.  Andrew has Mrs. O'Donovan (now Mrs. Lewis because she got married) and Charlie has Mrs. Barker who Andrew had at the time.  It is a weird sort of deja vu.  Sam's four square at school was painted over this summer when they repaved the black top.  Our principal is having the district repaint it for Sam.
Our life is hard and good and sometimes exciting and tragically sad.  Here are some pics…
Topics: Progress Reports | 4 Comments »
By Margot | August 15, 2012
A good friend of ours could use some prayers.
http://www.caringbridge.org/visit/jackbartosz
Cutest little Green Bay Packer fan that you will ever find!
Topics: Progress Reports | 4 Comments »
By Margot | July 13, 2012
I can't sleep. It's officially Sam's birthday 2:02am.  I got out Sam's baby book which I haven't looked at literally in years.  It's sort of more of a journal that I wrote to Sam while I was pregnant with him that I planned on giving him when he turned eighteen.  I wrote about what Neil and I were up to -went to see Tiger Woods play in the Buick open and to a Jimmy Buffet concert- a lot of things I'd forgotten about.  I wrote about what was going on in the world.  Exciting stuff like, "Peace talks are breaking down again in Israel" , I pasted a review of Aunt Molly's latest book and told him about everyone in the family.  But I also have little pictures of his first little ultra sounds with him giving us the thumbs up and I detailed all of the things I was doing to get ready for his arrival and assured him how excited his Dad and I were for him to arrive.  I wrote about possible names if he were a girl (he was always going to be Sam if he was a boy) and all about his baby shower.  Neil wrote little notes to him in there too. I laughed out loud about the fact that I spent two pages telling pre-Sam all about the Elian Gonzalez case and then wrote, "that was probably too much information."  Ha Ha.
The unexpected part and the part that was such a gift for me at 2am on Sam's birthday, that I'd completely forgotten about, is that I kept writing letters after he was born.  Not very many but there is so much of Sam's little baby personaltiy in those letters to him.  They are gushy, new mom crazy about her baby letters that make me smile and make my heart hurt.  A few excerpts from baby Sam's journal:
"Hi Sam, You were born on July 13th at 7:50 pm.  I can't believe you are six weeks old.  You are sleeping now on our big cushy chair in the living room. You are so beautiful.  I love to watch you sleep.  You are the most perfect baby. You are beginning to smile at us now and your little smile just melts my heart."
"Well it's been a while since I've written in here.  You are keeping me very busy.  You are eight and a half months old and getting more and more fun every day.  All you want to do is grab our hands and walk.  You are actually running around our apartment hanging on to whomever's hands are convenient.  You are a very happy baby – almost a toddler- I can't believe it.  You love dogs -they make you laugh.  You love being outside- a lot of times you'll walk straight up to the door and look up so I can take you outside.  You also love any kind of water, the bath, the pool, the beach.  You become beside yourself with joy when we take you to the beach.  You love your daddy, you always have big smiles for him when he comes home.  Some of your dislikes include: sleep, you are still not sleeping through the night.  You have actually done it once but it's not a usual thing.  Everyone keeps telling us to let you cry it out but we can't bring ourselves to do it;  Getting strapped into anything- you don't like getting into your car seat, your stroller,  your high chair – I think it's because you'd much rather be moving around.."
"Dear Sam,
You turned nine months last Friday and you are walking.  No one in the mommies group can believe it.  You are the most advanced baby in the crowd. You just want to go all the time.  When you get a little more practiced at it, I'm in trouble.  You are so adorable – just the cutest happiest baby.  You have a smile for everyone you meet.  You love animals.  Maureen and I took you to the Wild Animal Park this past weekend and you fed a giraffe.  You thought it was the greatest thing ever and even tried to push a guy out of the way who was taking a picture so you could see the giraffe.  It was really funny – you did it very gently."
"We love you so much Sam,  Can't imagine life with out you.  You make me happy just to look at you every day – smiling, waving – you wave with both hands, walking around like a drunkard, and laughing.  I could spend all day listening to that laugh."
"You dad and I are having so much fun watching you grow.  We go to bed at night laughing and talking about all of the amazing and funny things you did during the day.  You have definite ideas about what you want to do and are starting to let us know it.  You love to play the "magic carpet" game where you jump on a blanket and your father or I pull you around the house.  You also love to ride on our back while we paly "Jurassic Park" or "Gu Gunk"  You have a little rocking horse that we race you accross the floor on too.  I have a feeling you are going to be a speed demon."
Happy Birthday sweet boy.  Oh we miss that laugh.  We will be at your favorite park on Saturday celebrating.  Andrew has a baseball game on your birthday and says he's going to hit a good one for you.  Both your brothers are gearing up for a water balloon fight in your honor.
Love,
Mom, Dad, Andrew and Mr. Baby Dude
Topics: Progress Reports | 10 Comments »
By Margot | July 6, 2012
We kicked the summer off with a trip to Zion National Park and the North Rim of the Grand Canyon.  We left right after Charlie's graduation and flew into Las Vegas and drove down to Zion. I had fun showing the boys the covered wagon that the settlers used to travel in at the Mormon Fort national monument after all the complaining about the long drive ;-).  The vacation was great though.  Zion is just spectacular.  It was hot so we hiked in the morning and swam in the afternoons.  The boys and I rented inner tubes and went tubing down the Virgin River.  They had a blast and it was shallow enough that I could easily hop up and help Charlie when he got stuck on a rock.  We pretended he was seven so he could do it and after the first big rapid I was thinking I made a big mistake but he was a champ and had the best time.  Andrew had a great time as well. After a couple of days at Zion we drove down through the most desolate area we'd ever been to, to the North Rim of the Grand Canyon and hiked a bit and rode mules for an afternoon.  The boys loved it and are still talking about their mules.  Neil was very funny on his mule.  He reminded me of Billy Crystal in City Slickers 😉 but he was game for the boys to have a good time  and it made for a great memory for both of them.
We've hit the beach a few times.  Neil took the boys down last Saturday and Charlie got stung by a jellyfish.  So he's got that for a war story now.  The 4th was too cold for the beach here but we had a nice day at the park and did a big hike with the Monaco boys and Luke Brunette.  Then we watched the fizzled San Diego fireworks from the Monacos roof top deck.  It was a good day.
We've been enjoying some time off from sports.  Andy's heels were hurting (we think he's growing too fast and has something called severs so we've been stretching and icing) so we took a week off of soccer and he seems to be doing better.  It was actually nice to have free afternoons.  Both he and Charlie have been swimming a lot and doing playdates.  We start next week with Andy's summer baseball league and then the week after that he has a big soccer tournament so it'll start to be busy soon.  They both did a Scripps aquarium camp and really had fun.  Andy got to disect a squid and Charlie learned all about different animal life in the oceans.  I'm trying not to over camp them this year though they both have a couple of sports camp coming up and a chess camp at Balboa Park.  Both boys are still so funny and active.  Andrew's loves to say, "No offense mom, but…." and then he says something like "those pants look horrible" or "this chicken tastes really bad."  Ha ha.  So be careful if he's talking to you and starts a sentence with "no offense.' Charlie is still five going on 22.  He still wants to hang with all of the big kids.  He's so darn cute these days.
Next week is Sam's birthday and we are doing the celebration in the park on the day afterwards because the 13th is Andrew's first baseball game. I see Sam's friends now and they are so tall and some of their voices are so low it just knocks me out.  We'll bring some legos to the hospital that week in honor of Sam's birthday and I thought I'd bring some water balloons to his party at the park this year since Sam loved water balloon fights.
That's it for the summer so far that I can think of.  I'll post again on Sam's birthday.
Margot
Topics: Progress Reports | 2 Comments »
By Margot | May 24, 2012
We are wrapping up the school year.  I can't believe it.  I put Charlie's graduation from kindergarten on the calendar this morning and was thinkings of Sam's.  It was during his brief remission when we thought he was finished with treatment.  I remember exactly what he wore and how cute he was.  I remember crying through the awards ceremony that preceded it thinking of all he'd been through.  I can't believe it's Baby Charlie's turn.  He is so not a baby anymore.  He's so cool and funny and smart.  He sailed through his K/1 combo class and did a lot of the first grade stuff so we're hoping we get a first grade teacher that will advance him along. 
We have been ridiculously overscheduled this spring.  The boys were both on the same flag football team because we pretended Charlie was seven and they had an Andrew quarterback/Charlie receiver touchdown that was awesome.  Andrew also played spring basketball, soccer and baseball and it was crazy. Charlie was doing tball, soccer and football  We had a coach unhappy with us at all times for missing games for other games.  Both boys are going to take the summer off from basketball and Andrew will do baseball and soccer which is more reasonable. He's pitching in baseball now and loves it.  Baseball is inching up in the favorite sport category. His team is currently in the playoffs and they won last night by one run in the last inning with two outs, two strikes on the batter and the boy on thrid stole home.  The stands were going beserk. I'm a nervous wreck for Andrew when he pitches, I can hardly sit still. Mostly I just pace around and try to yell helpful things.  Neil is one of the coaches.  I was in helping keep score last week and Neil had to leave a little early and my co-scorekeeper said, it's eerily quiet without your husband out there.  You'll have to tell him I missed him."  Charlie boy plays four square with a gang of guys his age during the games.  It's pretty cute watching them all together.  Sometimes Charlie walks with that Sam swagger.
Charlie is playing the piano and he brought his new piano book to school for sharing today.  He loves it.  Andrew is playing guitar and just starting to get into it but not much of a practicer.  They are planning a band with their friend Jake on the drums.  They are growing up so fast.  Andrew will be in fourth grade next year.  Again, I think of Sam wrapping up his third grade year.  He was so happy to be able to finish off the year with his friends.  It was before everything exploded but boy did he have a good spring.
Neil and I are trying to slow things down a bit this summer so that we are not so crazy busy that it goes by too fast.  I say that and plan that and then of course Neil says I keep signing up for things.  We are still broken.  I would say less broken but there are times when we are as broken as ever so less broken is not that accurate.  It's hard to explain – maybe those times are a bit fewer though. I try only be broken in private.  I spoke to a mom in the hospital last week who is about to lose her sweet son, Connor, and I just hurt so much for her.  I've been thinking about her and Connor so much this week.
Coincidentally, I read a book that I downloaded on a whim on my kindle this week called  This is How….  by Augesten Burrows.  It was recommended and it was him giving life advice and he actually had a section on "How to Lose a Child"  and I swear I was so angy after reading it that I would probably spit at him if I saw him.  He of course has never lost a child but that didn't stop him from giving advice on it that didn't seem to be backed up by anything in particular but his own opinion.  Dope.  Anyway, sorry I got off on that tangent. 
Charlie and Andrew are taking us to their open house tonight and they are guiding it, showing us what they've been doing in school.  So I'm looking forward to that.  Last week was their spring music show and they were both reluctant to go but sang so well.  We found out from the dentist this week that Andrew will have some serious orthodonture in his future but we'll wait a while for a few more teeth to come in.  Will post pictures soon.
That's about what I can think of for now.  We are thinking of all of our warrior friends especially Jack Bartoz, who is now on nifurtimox, Hans Weberling (Lara your comment inspired me to update at long last)and sweet Connor.
Margot
Topics: Progress Reports | 4 Comments »
By Margot | March 12, 2012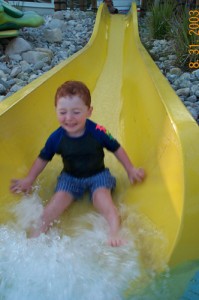 Two years ago today we said goodbye to our sweet funny boy and he took his last breath in our arms.  Ever since we have been trying to figure out how to live this crazy life without him.  I don't know that we have figured it out very well but we are trying.  Thought these pictures captured his joy for life and his "up for anything" spirit.
In his honor, and in our need to flee the day, we are in Arizona for the Padres Spring Training with the boys. As much as we try not to give this day too much power (we would rather celebrate his birthday and his happy days) it seems to overpower us anyway. I've written an erased several posts through tears and haven't come up with much except that we miss Sam so much.
Margot
Topics: Progress Reports | 21 Comments »
By Margot | February 6, 2012
I'm long overdue an update.  Sorry about that.  We spent Christmas in New Mexico and it was one of the only places in the nation with lots of snow so that boys got to sled and ski and snowboard.  They had a great time with the horses and dogs and lots and lots of space.  January has been packed with soccer and basketball.  Andy got to go to the State Cup tournament with his team at and we all spent his ninth birthday in Victorville, CA for soccer.  He told Charlie, "Charlie, how can you not be excited about being in a hotel for State Cup?  This is the fullfillment of my lifelong dream!"  I thought that was funny since he only found out about State Cup last year.  We went up for two weekends in a row.  Not much in Victorville but strip malls and some very cold soccer fields but the kids had a blast and this weekend especially, they played out of their minds.  We did a big party at the hotel with the whole team for his birthday and he loved it. His birthday continues because we still have to celebrate with his school buddies.  He's got a posse of girls who have gotten my cell number and call and giggle into the phone all time.  His team lost in a tough one Saturday afternoon.  It was single elimination this weekend so were home for the Superbowl.  Andy cried after the Patriots lost and Charlie bopped in after playing outside with all of the kids at the party in his Brady jersey and asked where Andrew was with a big smile on his face.  Only after he saw Andrew crying did he remember he was supposed to be upset so he started to cry.  It was funny.  We have to think Sam is smiling today in heaven because he was a Giants fan and an Eli fan.  Somehow, he could always pick the right teams.  Andy is very busy with student council.  I watched him today lead the pledge of allegiance and announce the winners of the bubblegum blowing contest.  He has no fear getting up in front of an audience.  He loves it.  Both he and Charlie won their groups in Friday's sport's day football throwing contest and Andy's friend Jake won his class so they were all very happy.  Charlie is still Ferris Buehler every now and then.  Two weeks ago the boy  sitting next to him threw up everywhere.  Charlie gave me the whole play by play after school and as we were leaving the teacher warned me to be careful since Charlie might not be feeling well soon.  I could see the little wheels turning in Charlie's head and sure enough he woke up saying his tummy hurt and his head hurt.  I was skeptical but sure if I sent him to school he would actually be sick and I'd feel terrible if he threw up everywhere.  He was perfectly fine of course and had a great day playing at home.  Despite the fact that he Ferris Buehlers as much as he can get away with, he's doing very well in school.  He has buddies that he plays soccer with at recess and he's reading at the top of his class.  He's tearing it up on the basketball court this year and starts t-ball and spring soccer this week and next week.
Early January was tough for me.  After powering through Christmas, I just seemed to hit a wall.  It was the month Sam was diagnosed and the month we found out things had spread to his liver. Also Patrick Chance died this January.  He and Sam met in the waiting room of CHOP and he was such a great kid.  As I put the date next to his name on our website I realized that when I initially put names up of kids fighting NB, almost all of them were alive and now there are only 4 out of 35 and one them did not have NB but medullo.  Horrifying.
I was glad that we had so many distractions later in the month.  Andy will turn older than Sam ever was this year (in eight months) and that is such a strange concept. Charlie boy is learing to write letters in school and his teacher asked the class to write a friendly letter.  Charlie asked if he could write his to someone who wasn't alive and she said of course.  Charlie's letter read as follows (we framed it)  "Dear Sam, You where a great brother i miss you so much you where the best brother ever. Love, Charlie" 
We also got an email from Rachael McCausland who is giving soccer balls in Sam's name to kids in Africa.  Her email to us: 
Dear Hutchison Family,
I wanted to write to let you know that because of Sam 45 soccer balls were just dropped off at the post office headed for kids in refugee camps in Dadaab, Kenya. I packaged each of the balls up with a pump and the pictures of Sam. I just wanted you to know that your boy is thought of often, and he is making a difference in the world. Thanks for sharing his strength.
 
Keeping your family in my prayers,
Rachel McCausland
Sam would get such a kick out of that. I first met Rachael at Max's Run a couple of years ago where she came up to me and showed me pictures of kids in Africa holding soccer balls and a picture of Sam.  I was so touched.  Thank you Rachael.
There is also a team in our little PB rec league that is putting "Get in the Game" on their jerseys in honor of Sam.  Their coach was one of his last basketball coaches. Something else he would really get a kick out of.
Neil is going to coach Charlie's t-ball team and Andy's first live pitch team this Spring so with that and work he will be busy  I'll assist as much as possible. 
My brother was in town from Australia for a trade show in New York.  He was able to come down and spend a weekend with all of us which was great and then last Friday I drove up to LA and he and I saw a play based on Aunt Molly.  Kathleen Turner played Molly and we got to meet her and talk to her after the show.  It was a lot of fun and great to spend some time with my brother.
That's about it for our update.  Will try to update more often.
Margot
Topics: Progress Reports | 9 Comments »
By Margot | December 15, 2011
Christmas Pics by Meredith Brunette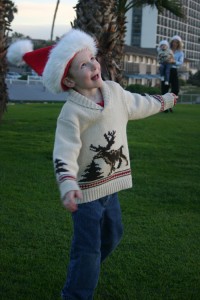 Nutty Sam 2005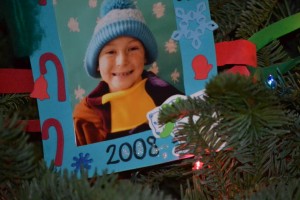 Sam Ornament
Well we did it.  We braved getting a tree and we decorated it with all of our ornaments and we sent out Christmas cards and we didn't skip Christmas this year.  It sucked and it was good.  Charlie and Andy were so excited about the tree and decorating to Christmas music with hot chocolate.  Uncle Matt did the lights on the tree (redid my lights on the tree) and Neil did the lights outside and decorated and we had tacos for dinner in honor of Sam.  All of the Sam ornaments were good to see.  The very best of all was a 5 by 7 picture of him wearing a beanie in a little holiday frame with his big giant smile.  I kept thinking, we would have had to wait another year to see this picture if we hadn't put up the tree.  Plus really, there is not much better than a five year-old and an eight year-old at Christmas.  Andy and Charlie are so excited.
We are going to New Mexico for a week and we'll get some snow and hopefully some skiing.  Tomorrow is the boys last day of school and Andy has a student council breakfast party, a fieldtrip, and a party in his class and Charlie and I are bringing two dozen sugar cookies that the boys and I made the dough for last night for his Christmas party.  Andy has two basketball games this evening and then we will race to the school art show afterwards where we can pick up some of the Andy and Charlie's art.  Charlie is very excited because we have little ornaments from past art shows with Sam and Andy's pictures on them and Charlie really wants one of him up there so we'll pick it up tonight.  Charlie's basketball season is starting and he's excited about it.  He can do a shuffle dance move now which is very funny.  Someone taught it to him at recess and he's been doing it all over the house and in restaurants lately.  Andy's soccer team won their league tournament and Andy did very well.  He's such a hard worker at everything.  In this new league we go to the soccer State Cup.  It's over his birthday weekend in Palmdale, California and I think Andy is more excited about staying in a hotel with his team than anything else.
Neil has been exercising a lot -doing P90X actually.  He keeps making us all laugh when he jokingly asks for directions to the "gun show" while showing his muscles.  He's running a basketball scrimmage every Wednesday afternoon at the rec center for Andy and about fifteen other kids so they can just run the court without so much structure -they love it. 
I'm trying to power through Christmas same as last year.  I've been tripped up with grief a lot more this Christmas – maybe last year I didn't let myself go there much. Conversely, I've also really been trying to enjoy the boys. They are so funny and full of life. Charlie and I are reading Junie B. books now.  I read them all with Sam in the hospital and both boys and I are reading the Goblet of Fire -Harry Potter together though we joke that as soon as I open the book, Charlie falls asleep.  Uncle Matt and I took them to see a production of The Grinch at The Old Globe theatre.  They grouched about it the whole way there saying "they don't like plays, they are sports guys."  Their mother full of Christmas spirit replied that they will not just be "sports boys" and they are going to get some culture if she has to shove it down their throat.  Very Nice.  I did try to explain that they can't hate all plays and that they just have to find the right one.  They weren't buying it though.  It all worked out because they loved the play.  Score one for culture ;-).  Going to try and get them to one a year.
Cherish Your Family This Christmas! And please keep those fighting this rotten disease in your thoughts -the Chance family in particular this year.
Margot
Topics: Progress Reports | 11 Comments »
By Margot | November 3, 2011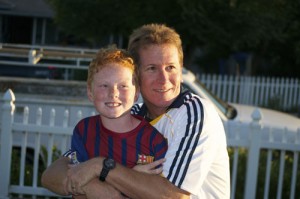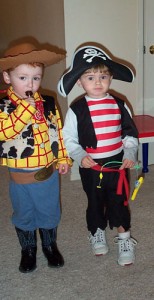 Sam and Joe
We had a good Halloween.  The boys were very revved up and since the school carnival was on Friday and they went to a party on Saturday and then trick-or-treated on Monday, they had three full days of Halloween.  I was in charge of the Pie Eating contest for the school carnival and afterwards ushered the boys around. Andy made it through the haunted house this year – big step for him. He was Lionel Messi the soccer player and Charlie was going to be a ninja but I ordered Andy's costume from iOffer.com to save some money and then read all of these horrible reviews on Google by ticked off customers who never recieved what they ordered.  I emailed someone in China and they said it might take up to 45 days.  I figured I'd been had and ordered another one from Amazon and they both came on the same day.  Charlie, noting that we had two Messi costumes, ditched his ninja costumes and became Messi jr.  Andy protested loudly at first but then was all right with it.  It made for a family themed costume as Neil wore his Beckham jersey and I was a goalie.  We of course carved a pumpkin for Sam and I did his name as big as I could get it on the big pumpkin.  Andy picked out the biggest for him.  Andy and Charlie picked out very complicated stencils for their pumpkins and then lost interest after the tops were cut off and left good ol' mom to struggle with the intricate carvings.
Andy's political career has begun.  He won safety officer at school and is so excited to be on student council.  He worked really hard on his speech and we were very proud of him.  I had to laugh at the Halloween party on Saturday he said to a 5th grade girl, "Aren't you the new IB ambassador for student council?"  When she replied yes, he said proudly, "I'm safety officer." His speech is too big to paste on here but I'll put a link to it at the end of this update.  Andy's doing really well at soccer, started flag football on Sundays which he loves (scary) and is starting basketball twice a week.  Nothing like keeping busy.
Charlie is enjoying  school and starting to make new friends. It's been smooth sailing in his K-1 class for the past few weeks. I'm volunteering on library days.  The library teacher was reading a story about Thanksgiving and asked the kids what they appreciate and are thankful for and Charlie raised his hand and said he's thankful he has a Wii.  One of those proud motherhood moments.  He's doing Mad science after school and is also having a great time on the soccer field scoring a lot and he actually passed last Saturday (a first ;-).
We got through another Halloween without Sam and have officially kicked off the holiday season.  Mainly we've kept our crazy schedule which keeps me sane and moving.  I kept thinking of how much Sam loved Halloween and Christmas and how excited he got every year, but this year I had a thought that he would have been in middle school and almost too cool for it (not yet probably).  Thank you to everyone for the kind comments on my last post reminding me that Sam will not be forgotten. I do panic sometimes.  Can't tell you how much those comments meant to me and Neil.  I had a dream about Sam that he was out playing with the neighborhood kids and before that I was helping him with his homework.  I was so happy and I asked him how he was getting home from school because I was only picking up Charlie and Andy and he said, "I'm in middle school now, Mom, I walk home."  In my dream I was talking to another mother while the kids all played in the neighborhood.  She said she lost her daughter to neuroblastoma and I answered, "our oldest died as well" and then I thought, "but no he's right here, I just talked to him" and then it dawned on me in my dream "but he is going to die." and I started to cry.  I woke up looking for him thinking he wasn't gone yet.  Ugh.  Sorry-didn't mean to make this update take a sad turn.  We are really doing ok for the most part.  There isn't a better word to describe our life than bittersweet.  The bitter and sweet can both come so quickly and close together.
I'm pasting a link to Andy's speech on YouTube because I know it will make you smile:  http://youtu.be/KuBT9af3P6A  Couldn't figure out how to get it on the TeamSam YouTube page but I'll change it as soon as I figure it out.
Margot
Topics: Progress Reports | 10 Comments »
« Previous Entries
Next Entries »